Texas Swine Saloon Hog Traps
The Texas Swine Saloon&copy design is totally unique and simply solves many of the existing difficulties associated with controlling an ever-growing population of feral hogs. Unlike typical, small square or rectangular wild hog traps on the market, our traps incorporate several key design innovations which enable the user to effectively trap and control large populations of feral hogs with relative ease and vastly improved productivity.
The Texas Swine Saloon&copy is the only manufacturer of commercially available round hog traps in the world!
Ease of Transport and Usage: Our feral hog and wild pig traps are designed to be quickly and easily transported and set-up by a single person. After assembly, (only 8 bolts needed) the entire trap can be easily turned on it's side and rolled into and out of any average pick-up or trailer. More importantly, the entire trap can be readily rolled any distance directly on the ground to the desired catch location! Relocating the trap to a new location is equally as simple and fast. This key design innovation renders all other competitor products virtually obsolete.Less expended time and less labor translates to money saved!
Texas Swine Saloon Hog Trap Plans and Assembly Instructions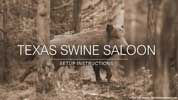 Click Here
Large Capacity: Our large 9 1/2' diameter feral hog and wild pig traps provide approximately 74 sq. ft. of interior space, holding up to 25 average sized animals per usage. More capacity translates to fewer animals causing damage and more money saved!

Spring Loaded "Saloon" Style Doors: Our research has shown other door types (such as rooter, dead fall, single side swing, etc..) often allow already trapped animals to escape as new arrivals enter the trap. "Saloon" style doors are the only type that will prevent this from happening. Our feral hog and wild pig traps utilize side-by-side "saloon" style double doors with triangular "push panels" installed on both inside corners. The "push panels" are designed to make it very easy for new arrivals to push the doors open and enter the trap even after the doors have been triggered closed. The entire door system is operated by a cable controlled, scissor style release mechanism (Patent Pending) to ensure a rapid and failure-proof triggering of the doors when activated by animals initially entering the trap.Improved door style increases efficiency, productivity and cost effectiveness!

4" x 4" Welded Wire Utility Panels: Texas Swine Saloon traps incorporate 4" x 4" welded wire utility panels to ensure a strong and escape proof barrier. The small spacing of our feral hog and wild pig traps prevents even the smallest piglets from escaping.

Our Design vs Large Panel Traps: The most often used alternative (to square traps) is a "home-made" panel trap which consists of multiple stock panels, T-posts and various types of entry gates wired together in a large round or teardrop shape. While this system is an improvement, it does still require extensive time, labor and material costs. In order to be effective, all feral hog and wild pig trapping systems require frequent relocating. This means extensive time, energy and resources must be invested. By frequently relocating the trap to high activity areas around your property, you can effectively control and even eliminate hog populations in many cases! The time, labor and expense involved in building and maintaining large "home-made" feral hog and wild pig traps makes them much less practical and far more labor intensive, time consuming and costly.


"Saloon" Doors Open
$899 Delivered!
$650 Picked Up!
"Saloon" Doors Closed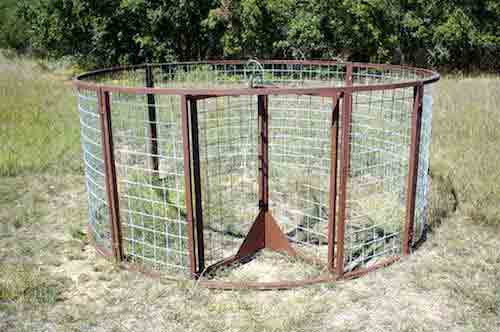 Release mechanism & spring in closed position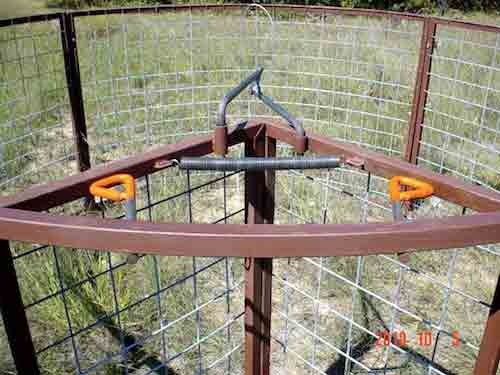 View of cable & doors in "set" position.